When I started wearing makeup, my mom took me to the makeup counter at Macy's where a trained professional helped me build my first makeup bag with items that were fun and exciting for me to try, but that didn't make me look like I was 25.
Fast forward to our world today…Instagram, YouTube and Pinterest have elevated society's view of beauty and are infiltrating the mind of our youth. My goal is to give you some essential makeup tips for tweens to help them build their first makeup bag with great products that are fun and easy to use, and won't make them look overdone.
A Cute Makeup Bag
This is the first essential item every gal needs. It's important to have a clean, dry place to store your makeup. This will help keep your makeup "clean" and also last longer if you store it somewhere dry. Humidity and heat are makeup's enemy as those environment are a breading ground for bacteria and also will speed up the expiration. There are many places you can find a cute makeup bag for your Tween, but Target is one of my favorites. They have a great selection and the prices are affordable as well.
This is one of my personal favorites.
Mascara
Mascara is a staple item to keep in your makeup bag at all times. It's a quick, easy way to enhance your beauty. For Tweens, I like the Covergirl LashBlast Volume. It's an easy formula to work with and the silicone applicator makes it easy to apply for beginners. Bonus - The price point is palatable for parents.
Pro Tip: to avoid clumps apply thin layers of the mascara at a time and build as you go.
Quality Brushes Are Key
The right tools for the job are an essential part of the success of your makeup application. One of my favorite brands is Sigma Beauty. They are SUPER high quality and the price point for what you get is not bad at all.
Pro Tip: Brush maintenance is super important. Plan on washing your brushes once per week. For a deep clean use Sigma's brush shampoo and cleaning gadgets.
Bronzer!
Bronzer is another staple product I recommend having in your makeup bag at all times. A good quality bronzer should give you a sun-kissed glow - not make you look like an extra in Willy Wonka and The Chocolate Factory.
My favorite bronzer for Tweens and ladies of all ages is from Benefit Cosmetics. Hoola is the perfect shade for almost any gal and does not contain any shimmer, which in my opinion is key!
Pro Tip: use a fan-tail brush to apply to ensure you don't get too much product in one place.
Sweep on with a fan tail brush to get glowing in seconds.
Gloss it up
Finally, in our essential makeup tips for tweens, my favorite cosmetic item to round out a beginner's kit is a fun lipgloss. One of my favorites is Posie Balm from Benefit Cosmetics (I like Benefit if you can't already tell). It adds just a subtle pop of color and is both youthful and fun. This gloss also hydrates and conditions the lips leaving them soft. Benefit has a few other shades in this formula as well. Try them all!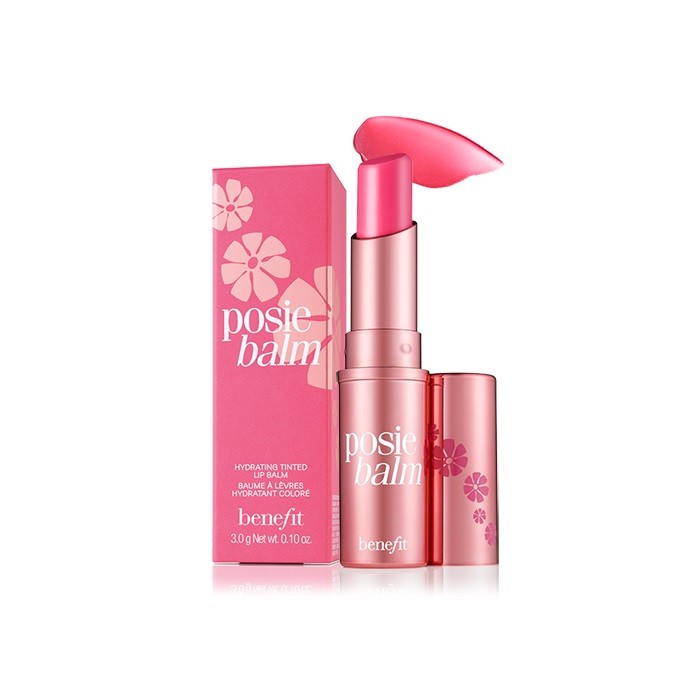 Add a pop of color and a little shine.
Removal
Makeup removal is a key element! Did you know that for every night you do not take your makeup off you age your skin by 7 days?! Crazy!
I'm not a huge fan of use remover wipes night after night, I found that it's hard on my lashes and skin over time. My absolute favorite makeup remover is from One Love Organics. It's a little more spendy, but totally worth it and lasts a long time. Pump one pump into your hands, rub together then massage over you entire face and eyes. Your makeup will slide right off and it leaves your skin soft, without any oily residue left behind. This is a great product for Tweens and Adults!
Pro Tip: Coconut oil is also a great makeup remover!
Remember, less is more! At the end of the day, I want makeup beginners to know that makeup should not define you. Makeup should be something that is fun and makes you feel great. It should not be something you need in order to feel relevant or beautiful. After all, what is on the inside is what counts. Cliché I know, but it's true. In a world filled with misinformation on what the definition of beauty is, I felt it was important to share some real tips on how to get started with makeup. I hope you enjoyed!
Want to learn these looks on your own? Book an in-home makeup lesson with a WarPaint International artisan, we also do personal makeup shopping! Happy Spring!