There is so much that goes into planning your wedding. The venue, Photographer, Flowers, THE Dress, etc. When it comes time to think about what you want your wedding makeup looks to be for the big day, there is SO much to think about. Not to mention the countless photos on Pinterest, Instagram and Google. Where to begin?
My recommendation is to stay true to who you are. Really think about what your personal style is, and make your goal to accentuate that. Too often I hear about brides who go against what they truly want, and where their comfort zone truly lies. Now, if you are someone who wants to do something different and out of your comfort zone, by all means, go for it girl!
When thinking about what style of makeup you are going for, the way that you communicate to your makeup artist is essential. Having photos of inspiration is a great starting point, but also knowing what you want and using the right terms to describe it will lend to the success of the look.
I am here to help! I have broken down 3 Top Trending Wedding Makeup Looks to aid in not only narrowing down the look you want, but also being able to then communicate that to your artist.
On to the wedding makeup looks!
Natural
For ladies that want to slightly enhance their natural beauty, keeping your makeup look simple is the way to go. This is what most brides ask their artists for, but knowing what natural makeup means to an artist versus you is very important. Coming prepared with photos is key. When this makeup look is requested it is also helpful to have a photo of yourself with your daily makeup done. This way it gives your artist a gauge of what you're used to - if anything at all.
When a natural makeup look is requested I recommend airbrush foundation as it tends to look more like your actual skin and is lightweight while still giving nice coverage. When requesting this look from your artist it is helpful to use descriptive words like; fresh, glowy (if you like a glowy look), not over done, myself but slightly enhanced.
Pro tip: When thinking about lashes for a natural look, ask your artist about individual lashes or a half strip lash.
You, but a little more than your every day.
Romantic
I love this look for brides who want to have a hint of glam, but not too much. This type of makeup look is great for clients who want more than their every day look, but still would like to look like themselves. For me, what makes a look romantic is adding lashes and a little hint of smokiness to the shadow. This makeup look works for any type of venue or time of year. When requesting this look from your artist it is helpful to use descriptive words like; medium spicy, natural glam, romantic.
Pro Tip: For an extra pop, have your artist use shadows with some shimmer to them!
Glam
Full on bold and spicy! Glam looks are great for clients who love to wear makeup and want to make a statement with their look. If you're considering this look you can count on a bold lip, a smokey eye, some contouring (or sculpting which I prefer to call it) and of course lashes! I typically see brides request this type of look if they have a Fall, Winter or evening wedding, but the Glam bride can rock this look any time she wants. When requesting this look from your artist it is helpful to use descriptive words like; sassy, sexy, bold.
Pro Tip: Take your look to the next level by adding wings to your eye liner!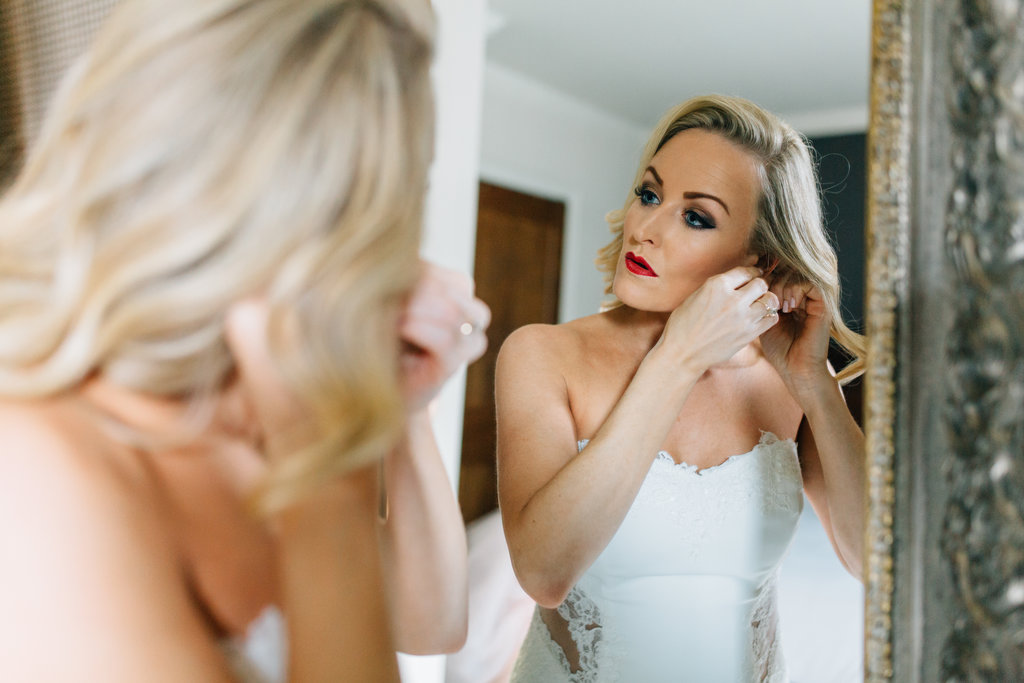 For those not afraid to make a statement.
Whatever style of makeup you decide on, make sure it makes you feel like your most beautiful self. Too often I have brides in my chair who are easily influenced by others (ahem... Mother of the Bride and sisters...) of what they think the bride should have for makeup. Remember, you're the one getting married - not them.
One last piece of advice...
Keep in mind when you are looking for inspiration images... any image you find online is likely edited. Some more so than others, but they are all edited. It is also a good idea to find photos where the person in it has similar features to you. Having realistic expectations not only sets you up for success but your artist as well.
Photo Credits:
Banner Image: Brovado Weddings.
Natural Makeup: James Stokes Photography.
Romantic Makeup: De La Vue.
Glam Makeup: Justina Louse Photography.
Want to learn these looks on your own? Book an in-home makeup lesson with a WarPaint International artisan, we also do personal makeup shopping!