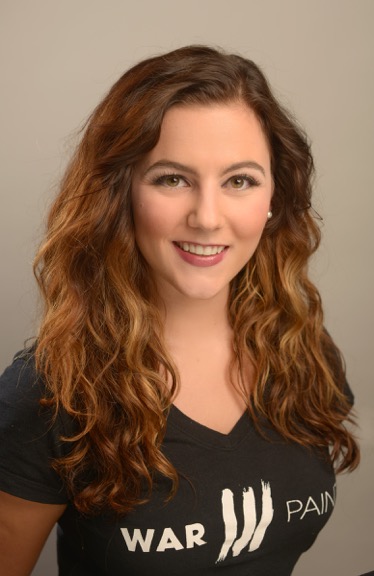 An Exclusive WPI Makeup Artisan.
Claire Donnelly. WPI Exclusive Artisan
WarPaint International offers hair and makeup artistry services for multi-media applications, photoshoots, Editorial and commercial applications. Our team is extensive in the Minneapolis/St.Paul area. A few Artisans on our team hold the title of being "Exclusive". They work only with WPI, they drive our mission forward and they have flexibility in their schedules to accommodate your events and beauty needs on regular basis.
Here's a little bit about Claire
What makes your artistry unique?
My devotion to fine detail and realism. Whether I am working on a beautiful bride, or a grotesque creature from your nightmares, my main focus is to capture that sense of realism in my work. In addition to my client's happiness, executing a makeup that the audience truly believes in is one of the most important things to me as an artist.
What inspires you?
Most of my inspiration stems from film. When I watch movies I often take notes of not only the makeups I would like to learn to replicate, but also how I can take those makeups and tweak them to create something of my own. My fascination of and inspiration from film has also led to my dedication to realism which sets me apart as an artist!
WarPaint Artisan Since
February 2016
Style Icon
Leighton Meester as "Blair Waldorf" on Gossip Girl is my ultimate style icon. Her character's ability to put a unique spin on a classic look is something that I try to emulate in both my wardrobe and my makeup applications.
Hobbies/Interests
Creating new characters and creatures through the use of SFX makeup techniques.
Cooking and Baking.
Downhill Skiing.
Sewing.
Anything "crafty!"
Specialty: Special Effects Makeups, and creating flawless skin and perfect eyebrows!
Education & Experience
While obtaining my Bachelor degree in Communications at the University of St. Thomas, I worked as a freelance makeup artist. During that time I worked as an artist for multiple weddings, fashion shoots, editorial shoots, as well as proms and special events. Upon Graduation I was accepted into the Joe Blasco Makeup Artistry Training Center in Orlando, Florida where I graduated at the top of my class. Since the completion of my training I have continued to work in the wedding industry and beauty industry, but have also had the wonderful opportunity to expand into the world of editorial and television makeup artistry. My work has been seen on both local (Twin Cities Live, Channel 5 News) and national (History Channel & Entertainment Tonight) broadcasting networks.
I was also named WPI Artisan of the Year for the year 2016. I am so honored to have received this award and am excited to continue to grow with WarPaint International!
WarPaint International Academy Certifications.
• Makeup Master Skills 2016
• Safety & Sanitation 2017
Claire Donnelly In The News
Work with Claire in your "Beauty Membership"
Membership
The Beauty Membership™ is an exclusive in-home, hair & makeup service, providing luxurious beauty services, on demand and on-location. Your monthly membership includes 2 on-location beauty services per month.

Booking is very simple and easily done online, from any smartphone or computer. The WarPaint International Beauty Membership is currently available in Minneapolis / St. Paul and surrounding areas, Manhattan, Brooklyn and surrounding Boroughs, Los Angeles, and San Diego.
Apply now and save hundreds of dollars all year long on destination beauty services.
How do I Apply?
Simply purchase your membership by clicking the "Purchase" button. You'll complete a secure, online membership enrollment which will bill your credit card on a monthly, recurring basis. Your monthly membership will enroll you for your Beauty Membership agreement, supported by Memberful subscription software.
You'll receive a welcome email from us, once you've signed up with your membership number and information on how to book your hair and makeup services!
Night on the town? Gala or event? Special date. Let WarPaint Artisans help you "Prepare For Battle".
Thinking about headshots for your business? Have you been to an event that offers lipstick touch-up or beauty bars? Are you getting married or giving child birth? Download our media kit and contact us today.